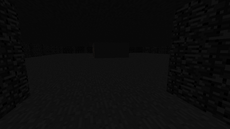 The
Avalost State Pennitentiary
is a jail built in
Avalost
. Designed by
AdmiralBeercakes
and
Tex215
, the prison sits at the bottom of the Undercroft Mall in Avalost.
Designed in the vein of Docithe's Jail for Annoyances, the prison is dark, though mobs do not spawn in the prison because of the Towny protection prohibiting mob spawning imposed throughout the town. Unlike other prisons, the jail plans to completely prohibit Citizen foot traffic through the use of piston doors that will be installed at a later date. The cells are small, dark and completely made out of Bedrock, ensuring that no one will ever escape their cell.
Ad blocker interference detected!
Wikia is a free-to-use site that makes money from advertising. We have a modified experience for viewers using ad blockers

Wikia is not accessible if you've made further modifications. Remove the custom ad blocker rule(s) and the page will load as expected.