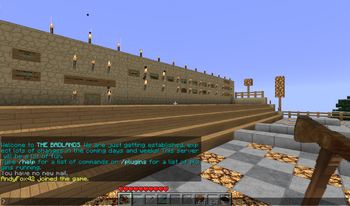 The phrase "
Cordestian smells like a dirty gym sock
" was first popularized in the
Original Badlands
. During this era,
AndyFox42
was testing a plugin that created NPC's which could talk to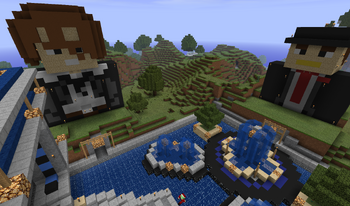 players. While creating a variety of NPC's that provided useful information around
the original spawn
, he also threw in a few that said random stuff. One of them, "Badlands Bart," made this comment about
Cordestian
(who was still known as
liberatus20
at that time.)
"Cordestian smells like a dirty gym sock" became a somewhat viral phrase. It was added as a Badlands Tip. When the Spawn Plaza was created, featuring statues of the three admins including Cordestian, the phrase was again uttered by a strategically placed NPC.
Ad blocker interference detected!
Wikia is a free-to-use site that makes money from advertising. We have a modified experience for viewers using ad blockers

Wikia is not accessible if you've made further modifications. Remove the custom ad blocker rule(s) and the page will load as expected.