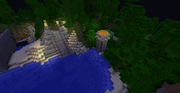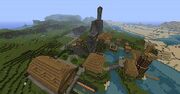 The Testificatians were the first known civilized group in the MC Badlands, dating back almost three thousand years before the beginning of the Dark Ages. Before Andyfox42 and Docithe established a colony in the Badlands, they were the rulers. They built massive temples to honor the God of Pig, and the God of Squid.
The Testifications most likely started out in a cave, like most people in the Badlands. The drawings in some caves depict the following:
One tree outside
Push tree down, cut into blocks with sharp stone
Tie stones to sticks and use as tools
Building small stone huts
Better, more advanced tools now, gathering lots of stone
Creating temples and training warriors
Spears and daggers made of obsidian are crafted
Testifications used to be the most fierce warriors in the entire World. They would defeat hordes of zombies and slay groups of spiders. They wore decorative cloth and feathers instead of plate or chain armor. The Testificatians were masters of weapon creation, and had deadly obsidian spears, with stone swords or daggers as secondary weapons. Obsidian daggers were only used in ceremony. It is thought that they created large stone walls with hidden underwater entrances throughout their empire, which allowed great defence and quick escape from attacks.
Wealth and Temples
Edit
The Testifications were very industrious, aswell as very wealthy. They built temples of many sizes to store their wealth, ranging from the size of a birch tree to the height of a giant. The bigger the temple, the more wealth stored.
Like many good things, this Empire would not last forever. It started with the arrival of modern people, who had far superior weapons, crafted from iron and diamond. The Testificatians were many, but their stone weapons could not match against a razor-sharp diamond blade. The Emperor was forced to subject to the newcomers, and later killed in a freak creeper bombing. Today, the Testifications are weak, being terrorized by travellers and having entire villages destroyed for the resources. It is said, however, that new technology is being discovered, saviors made of solid iron are created to defend the villages from attack.
Classical Buildings
Edit
Testificatian Architecture and Culture is greatly admired. Their ancient buildings the strongest and largest of the Era. More are being discovered, but it is thought that there are thousands remaining.